---
 Classwork and Homework Request
As we approach the holiday and flu season, the best way to keep students engaged in learning and their grades soaring when they miss school is to request missed classwork and homework.  It's simple, just follow these easy steps:
Communicate with teachers; email is always the best option.  Staff email directory
Classwork and homework can also be requested through the main office by calling     586- 574-3175.  Please allow the teachers and staff at least 24 hours to prepare your   request. 
Pick up the work request from the main office (after 24 hours).
Return all completed work to the classroom teachers.
For shorter absences, such as missing just one day, it is always best to communicate with teachers directly.
Accessing WCS Student Email Accounts
If you don't know how to get to the student email itself, go to the following in any web browser: 
Visit www.wcskids.net

Click on Parents/Students Tab

Click on Student Email Login

Your email is your studentnumber@wcskids.net

Your password is your same password for logging into the computers at school. 
Accessing WCS Schoology Account
Be sure to know your student email and password before starting. (see above)
Visit www.wcskids.net
Click on Parents/Students Tab
Click on Schoology (over to the left)
Enter student email (student number@wcskids.net)
Enter password (same as password to log in to school computers)
Accept when prompted (first time only)
 Click on Class desired/hour
CDC's tip sheet offers facts and practical ways to start conversations with young people about the risks of e-cigarette use.
Comcast Internet Essentials
Individual students and families who are seeking a low-cost solution would do well to check out the Comcast Low-Cost Internet and Computer program. Students who qualify for National free or reduced lunch will qualify for the program as outlined below. Visit this website for more information: www.internetessentials.com or
call 855.846.8376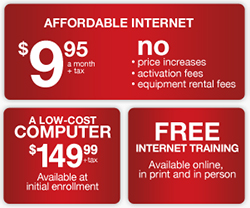 Eligible families get home Internet service for only $9.95 per month and can purchase a computer for a low price of just $149.99 + tax. Free classes and online tutorials are also available with this program.
Websites of Interest:
Protect MI Child

Are your children safe while online? Michigan families, especially minors, are becoming inundated with advertisements from alcohol, tobacco, pornography and gambling marketers through different internet and cell phone in boxes. Thankfully, the State of Michigan offers a free program to stop adult advertisements from reaching e-mails, mobile phones (text messaging ads) and instant messenger IDs. The Michigan Child Protection Registry is a free do-not-contact service for Michigan's families and schools and can be located at www.protectmichild.com.
Michigan Cyber Safety Initiative (CSI) Parent Resources
This web page houses Cyber Safety Resources for parents who want to help keep their children safe when using the computer.  The web page is sponsored by the Michigan Attorney General's Office.
Care of Macomb
Community assessment referral and education to support individuals and families through a network of substance abuse, mental health and employee assistance services.